If you enjoy mashed potatoes but would like to try a healthier version, mashed cauliflowers are a great option.  It is an excellent way to incorporate more vegetables into your diet rather than starchy foods.  This can improve energy levels and increase nutrition absorption rates.
You can enjoy the mashed cauliflowers as a side dish or as a main course with a salad.  This dish will help to prevent bloating and indigestion that often comes with eating heavier meals.  If you're eating a heavy meat dish, this is an excellent alternative to mashed potatoes.  This applies to a style of eating which is called food combining.  It addresses the importance of eating heavy protein dishes apart from heavy carb dishes.  The combination of both can be overwhelming for the digestive system.
Cauliflower Mash
1 large cauliflower, trimmed and cut into small florets
1 garlic clove, minced
1/2 tsp sea salt
2 tbsp olive oil
1 tbsp fresh chives
1 tsp dried parsley
Bring a large pot of salted water to a boil.  Add cauliflower and cook until tender, about 10 minutes.  Drain and transfer cauliflower to a food processor.  Return back to pot and add in the remaining ingredients.  Season with sea salt and cracked pepper.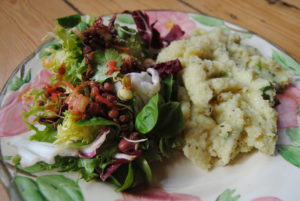 ---