Curries are a great idea regardless of whether you have lots or little in your kitchen.  They can be complex with many spices and ingredients, or in this case, they can be very simple.  I usually go shopping every other day in our local community and it was time to stock up again.  Green beans and mushrooms were the only vegetables I had, but thanks to my herb garden and spice rack, I was able to create a meal.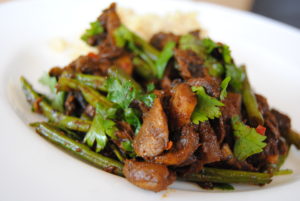 Curries traditionally are served with white rice but when making them at home, try to use brown rice or wild rice.  These grains haven't been refined and still contain all of the nutrients and fibre.  Soak your rice and other grains in water for a few hours before cooking.   This will help to remove the phytic acid that surrounds them.  Phytic acid is a protective measure in nature but interferes with mineral absorption in the body.
As always, it's a great idea to add a mixed salads to your meals.  This is a great way to increase the nutrient levels in your diet, as well as adding fibre, minerals and vitamins.  Mixed greens also encourage detoxification in the body.  Make sure to use darker greens rather than light ones, like iceberg lettuce for example.  The darker the colour, the more nutrients is a general rule.
I added mung bean sprouts to this salad for some additional nutrients and enzymes.  Sprouts are an excellent way to increase your energy levels in the body without caffeine or stimulants.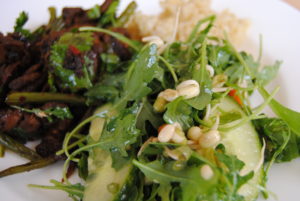 Mushroom Curry
1 large onion, chopped
3 tbsp olive oil
5 garlic cloves, minced
1 tsp cumin
1 tsp ground coriander
1 tsp chili powder
1/2 tsp turmeric
3 cups mushrooms, chopped
1 cup green beans
1/2 tsp sea salt
1 tbsp tomato paste
1/2 red chili pepper, minced
1/4 cup chopped fresh coriander (cilantro)
2 tbsp fresh parsley, chopped
Cook onion in olive oil for about 3 to 5 minutes.  Add garlic and cook for an additional minute.  Add the dried spices and cook over medium heat for another 5 minutes.  If the mixture becomes dry, add a little water.  Make sure to add only a tablespoon at a time to avoid making the mixture too runny.  Next, add the mushrooms, green beans, tomato paste, red chili pepper and salt.  Lower the heat to a simmer and cover, cooking for about 10 more minutes.  Remove from the heat and add in the fresh herbs.  Enjoy!
---