Red lentils and quinoa are both great choices if you want to make a quick meal. They cook in less than 15 minutes so are easy to make if you don't have a lot of time. If you can, try to soak them in water for at least 2 hours before. Grains contain phytic acid in their covering which can inhibit mineral absorption. This exists as a protective measure in nature but soaking them in water can release this.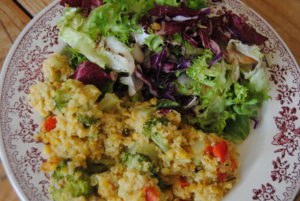 You can use any vegetables you like or have on hand to mix with this dish. In this case, I used broccoli, sweet potato, red pepper and onion. If you want to make a curry, use spices like cumin, coriander, mustard seeds and curry powder. If you prefer more of a Thai flavour, use coconut milk as the sauce. I decided to go for a neutral flavour and just used garlic, basil, oregano and lemon.
Red Lentil Quinoa Blend
3 tbsp olive oil
3 cloves garlic, minced
1 onion, chopped
1 sweet potato, chopped
1 red pepper, chopped
2 cups broccoli, chopped
1 tsp dried oregano
1/2 tsp dried basil
1 cup cooked quinoa
3/4 cup cooked red lentils
3 tbsp fresh basil, chopped
Sea salt and cracked pepper
Cook onion and garlic in olive oil for a few minutes then add sweet potato. Cook until the sweet potato softens. Add the red pepper and broccoli and cook for a few more minutes. Mix the dried herbs into the vegetables then add the quinoa and lentils. Stir for a few minutes until everything is warmed. Add in the fresh basil and top with cracked pepper and sea salt. Enjoy!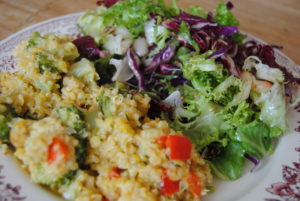 ---