An easy way to eat a tasty and nutritious meal is to make a vegetable brown rice pasta dish.  Although we tend to think of pasta as "full of carbs" or a "starchy" meal that leaves us feeling heavy, it can actually be a healthy alternative.  I make these kind of dishes a lot in the winter but in this case, I made it in the summer.  I usually make extra portions so that I can have it as a cold pasta salad the following day.
Simply grill or roast your favourite vegetables with garlic and herbs.  Mix the cooked pasta together with the cooked vegetables and sprinkle with fresh herbs.  If you would like to add some cheese, sprinkle the dish with goat or feta cheese.  It keeps the dish light, yet flavourable.
Fusilli Primavera
3 cloves garlic, minced
4 tbsp olive oil
1 yellow pepper, sliced
1 red pepper, sliced
1 zucchini (courgette)
1 cup mushrooms, chopped
1 small jar sun dried tomatoes (with oil)
2 tbsp fresh parsley
2 tbsp fresh basil
Sea salt and cracked pepper to taste
1/2 cup feta cheese
2 cups brown rice pasta
Roast or grill the vegetables, olive oil and garlic in the oven for approximately 30 minutes.  Mix together with cooked brown rice and feta cheese.  Easy and delicious!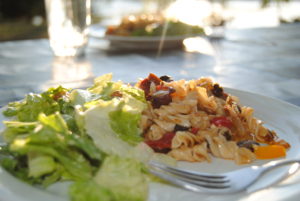 ---