I always forget about having tacos for dinner.  This is the type of meal where it can be a healthy one or a meal that's really hard on your digestive system.  If you stuff them with lots of vegetables, they can be a very healthy meal option.
When making a meal that you're going to add in a wrap or a shell, add lots of vegetables, garlic, and any other spices you would like to add.  Rather than load your shell with lots of meat and cheese, try a veggie option and just add a few sprinkles of cheese.  If you're trying to avoid dairy, leave the cheese out and they'll still be really tasty!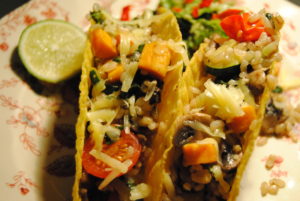 If you're using soft shells, try to buy whole wheat wraps and even organic if possible.  Wraps can often have a lot of preservatives in them so look at the ingredient list for wraps that are as plain as possible.  Health food stores will usually stock "sprouted" wraps which are easily digested in our body.  Corn tortillas are a good option if you're trying to avoid gluten.  Corn is heavily processed though so try to buy organic shells.
I won't write out a specific recipe this time.  Just take any vegetables you would like, chop them up and cook them with olive oil.  I used garlic, onion, courgettes (zucchini), bell peppers, mushrooms, spring onions, sweet potato, fresh coriander (cilantro) and spinach.  While everything is cooking, you can add in a few dashes of cumin and ground coriander.  Warm up the shells in the oven and add your fillings.  Squeeze some fresh lime on top and serve with a side of guacamole.
---