Back to the recipes after a few weeks of holidays!  For those Canadian readers out there, the title might throw you off – courgette is the same thing as zucchini.  I've made this dish a few times before and it's tasty!  This time I made it with millet but I prefer the original quinoa version.
This dish has lots of nutritional benefits – healthy fats, proteins, complex carbohydrates, vitamins, minerals and it's gluten/dairy free as well.  It's made in a few different stages.  First, the chickpeas are marinated…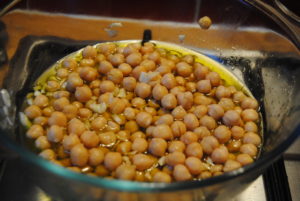 Next, the quinoa is cooked with the spices…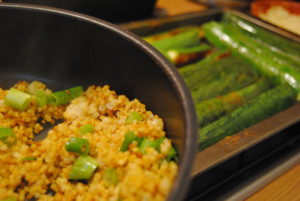 Then the vegetables are coated and grilled in the oven.  If you have a BBQ, grilling them on this is even better.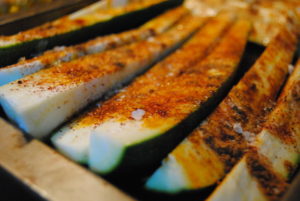 Then the fresh herbs are mixed in…    Stir everything together and your meal is ready!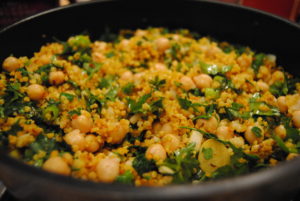 Quinoa with Grilled Courgette and Chickpeas
1 can chickpeas, drained and rinsed
3 tbsp fresh lemon juice
5 tbsp olive oil
3 garlic cloves, chopped small
2 tsp cumin seeds
1 tsp turmeric
1 tsp paprika
2 cups water
1 cup quinoa, rinsed well and drained
1 tsp course sea salt
3 courgettes, quartered lengthwise
1 ½ tsp ground cumin
4 green onions (spring onions), thinly sliced
¼ cup chopped fresh Italian parsley
¼ cup fresh cilantro (coriander), chopped
Combine chickpeas, lemon juice, 3 tbsp of olive oil, garlic in a bowl.  Let marinade at least 45 minutes.  Heat 1 tbsp oil in sauce pan over medium high heat.  Add cumin seeds, ½ tsp turmeric, ½ tsp paprika and stir 1 minute.  Add 2 cups water, quinoa and coarse salt; bring to boil, stirring occasionally.  Reduce heat to medium low.  Cover and simmer until all absorbed (about 15 min). Place the courgettes on grill or BBQ. Drizzle with 1 tbsp oil.  Sprinkle ground cumin, ½ tsp turmeric, ½ tsp paprika, salt and pepper.  Grill all sides (10 – 12 minutes).  Cut crosswise in small pieces.  Add remaining ingredients, courgettes, chickpea mixture to quinoa and toss.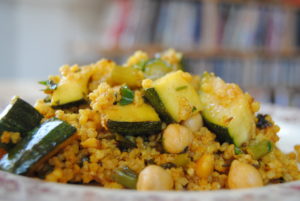 ---