If you're used to eating sandwiches for lunch but are trying to stay away from wheat or gluten, a good idea is to add brown rice your salads.  This will add bulk to your meal and prevent you from getting hungry soon after you eat.  Brown rice is a complex carbohydrate and helps to stabilize blood sugar levels.  This will prevent cravings later in the day.  As opposed to gluten based meals, this dish will prevent symptoms like bloating, gas and indigestion that are common with bread and pasta.
A homemade salad dressing can also work for you, rather than against you.  If you're using bottled dressings, check the ingredient list as they can often include sugar, additives and other chemicals.  The body will have to waste energy detoxing these items rather than assimilating nutrients.  This can cause you to feel lethargic after eating rather than energized.
A creamy salad dressing can also add bulk to your meal.  Tahini is a blend of sesame seeds that is high in healthy fats, protein and calcium.  Blend it with lemon juice (great for the liver), ginger (digestive aid), garlic (anti-oxidant) and other natural items to create an overall balanced meal.
Mixed Greens and Brown Rice Salad
2 cups mixed greens
1 cup brown rice (cooked and cooled)
2 celery stalks, chopped
1/2 cucumber, chopped
1 red pepper, chopped
1 avocado, chopped
Sesame Ginger Dressing
1/2 cup tahini (sesame paste)
1/2 cup olive oil
1/2 cup water
1/4 cup tamari or soy sauce
2 tbsp red wine  vinegar
2 tbsp lemon juice
2 tsp fresh ginger, minced
2 cloves garlic, minced
Black pepper to taste
Drizzle 3-5 tbsp over the salad and mix together.  Store the rest in an air tight container for up to 2 weeks.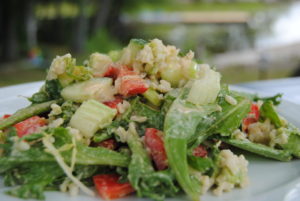 ---