Rather than the usual staples such as bread, milk, flour and sugar, start to switch up your staple foods.  Quinoa, brown rice and lentils are all excellent choices.  They can quickly become the base of your meal, so that all you have to do is ensure that you've got lots of vegetables on hand.
Coconut oil and coconut milk are also excellent things to keep in your kitchen as well.  They are thermogenic foods which mean that they regulate metabolic levels in the body.  Even though they are high in fat, they actually speed up the body's metabolism and encourage weight loss.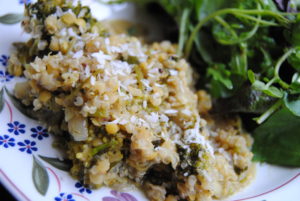 If you're looking for a delicious combination, try quinoa, coconut and red lentils.  They all have soft and subtle flavours but are extremely delicious.  Add in some fresh vegetables and you have an amazing meal!  As always, remember to add a fresh green salad to your dishes.  This will dramatically increase the nutrient levels in your diet.
Coconut, Quinoa and Red Lentils
3 garlic cloves, minced
3 tbsp ginger, minced
2 tbsp coconut oil
2 tsp yellow mustard seeds
1tbsp coriander seeds
1/2 tsp turmeric
1 tbsp ground coriander
2 red onions, chopped
1 cup broccoli, chopped
1 courgette (zucchini), chopped
2 green onions, chopped
1 can coconut milk
1 cup cooked quinoa
1 cup cooked red lentils
1/2 cup fresh coriander (cilantro), chopped
3 tbsp coconut flakes
Cook all of the spices with the garlic and ginger in coconut oil for about 5 minutes.  Add the onions first, followed by the other vegetables.  Add the quinoa and lentils then add the coconut milk.  Let everything cook for a little longer and add in the fresh herbs and coconut flakes at the end.  Enjoy!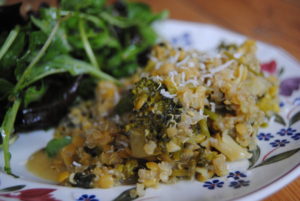 ---