It's been chilly lately so I decided to make a curry dish.  Curries are a great warming meal to have when the nights start to get colder.  This is a great month to blend seasonal foods.  The days are usually still warm but the nights begin to get colder.  While you can still enjoy local berries and other summer produce, dinners can begin to include warming spices and vegetables.   I decided to make a curry so that I would have leftovers for the weekend.
Tomato and Chickpea Curry
2 tbsp olive oil
2 cloves garlic, minced
1 tbsp curry powder
1/2 tsp cumin
1 tsp ground coriander
1 tsp yellow mustard seeds
1 onion, chopped
2 cups mushrooms, chopped
1 red pepper, chopped
1 tomato, chopped
1 can organic chickpeas
2 tbsp tomato paste
Cook the garlic and onion in olive oil for a few minutes then add the spices.  Drop in a little water if the spices are a little dry in the pan.  Add the remainder of the ingredients and continue to stir until the flavours blend.  Pour mixture on top of brown rice…enjoy!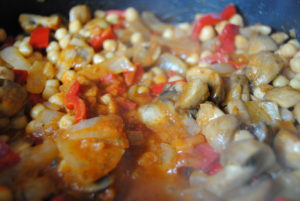 ---