Often I make a few salads to leave in the fridge overnight and marinate.  Salads without lettuce are great because they don't wilt and can last longer.  If you want to use lettuce, just add it as your base when you take your pre-made salad out of the fridge.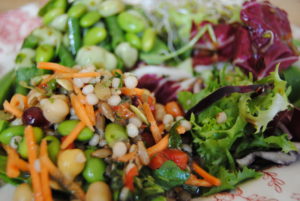 As always, try to add fresh sprouts to your meals whenever you can.  They are still living and full of natural enzymes, which provide energy for the body.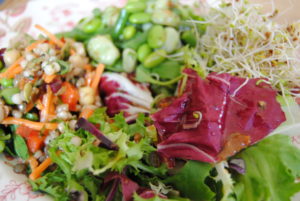 There are 2 salads in the pictures above…one is mostly green and the other is full of colours.  I will provide the recipe for each salad below:
The Green Salad
1/2 cup cannellini beans
1/3 cup edamame beans
3/4 cup green beans
1/2 cup snap peas
The Coloured Salad
1/2 cup chick peas
2 carrots, grated
1/2 red pepper, diced
3/4 cup cherry tomatoes, chopped in half
2 tbsp craisins
1/2 cup pearl barley
1/4 cup purple radish, sliced
Both salads were dressed with a simple mixture – 5 tbsp olive oil, 1 tbsp fresh mint, 1 tbsp fresh basil, 1/2 squeezed lemon, 1 tbsp squeezed orange.  Mix them and enjoy separate or together.  I also added some mixed greens and sprouts on the plate as well.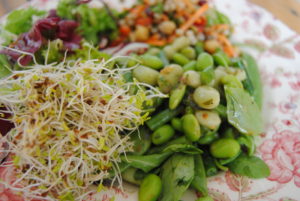 ---