I stopped by my local Farmers' Market this weekend and picked up some rainbow chard.  The colours are so beautiful!  I had some other vegetables at home as well so I threw them all in a pan and cooked them with quinoa.  Swiss chard is one of the top "nutrient dense" vegetables you can eat.  It is packed with nutrients, fibre, chlorophyll, minerals and vitamins.  It is also great for cleansing the liver.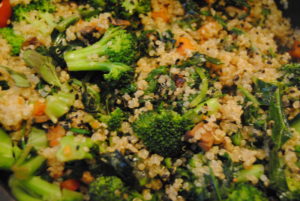 I didn't really know what I was making during the cooking process (as usual!) but it turned out to be tasty.  I sprinkled black sesame seeds over the top of it, which are also high in nutrients.  Sesame seeds are high in calcium and healthy fats, but black sesame seeds in particular help with bowel issues.
Broccoli and Chard Bowl
2 tbsp olive oil
2 cloves garlic, minced
1 tsp cumin seeds
1 tsp coriander seeds
1 tsp fennel seeds
1 sweet potato, chopped
1 red onion, chopped
2 cups broccoli, chopped
1 head Swiss chard, chopped
3/4 cup cherry tomatoes
1 cup cooked quinoa
1/2 cup vegetable stock
Cook the garlic in medium heat with olive oil for a minute then add the seeds.  Continue to stir for a few more minutes then add the onion and sweet potato.  Once the onion and sweet potato have begun to soften, add the remaining ingredients.  Allow the broccoli to become slightly cooked but not overdone.  This will affect the nutrient and enzyme levels.  Top with sea salt, ground pepper and black sesame seeds.
---