Even though I cook a lot, I have never actually "baked" before.  My friend gave me a recipe for a healthier version of a chocolate cake.  It had beets in it!  I bought a cake tin and then headed off to the kitchen.  I modified the ingredients a little so I'll leave the recipe below.
Chocolate Beetroot Cake
3 medium beets
100g decent dark chocolate (with at least 70% cocoa content)
100g plain flour
1tsp baking powder
50 g ground almonds
4 tbsp cocoa powder
100 g muscovado sugar
1 tbsp pumpkin seeds
1 tbsp sunflower seeds
4 eggs
1/2 cup sunflower oil
Boil the beets until tender then cool, peel and blend.  melt the chocolate over a pan of simmering water.  Mix the flour, baking powder, ground almonds, cocoa powder, muscovado sugar, pumpkin seeds and sunflower seeds together.  Separate the eggs.  Mix the yolks with sunflower oil and the melted chocolate.  Fold in the beetroot, then add the beaten egg whites.  Add to the dry ingredients, mixing gently.  Cook for about 3/4 hour at 175C/340F.  Enjoy!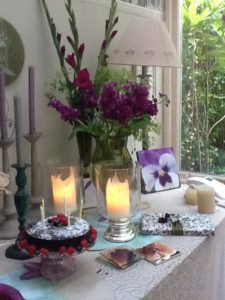 ---