The weather has been so warm in London lately that it's been nice to have what I call "summer salads".  I don't have an exact definition for summer salads but they basically just include fruit, nuts and other light toppings.  They are salads that you would imagine eating on a patio in the warm months.
This one in particular included sliced mango, avocado, sunflower seeds, craisins, mixed greens and radicchio.  For the dressing, I used white wine vinegar, olive oil and sea salt.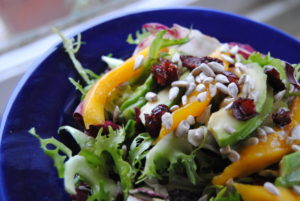 These kind of salads are also great to have as a mid-afternoon snack.  They're full of nutrients and will give you the energy that you need to carry on with your day.  Many common snacks will leave your body craving more vitamins or will drag you down shortly after.  Try to keep your snacks healthy and you'll be rewarded with more energy.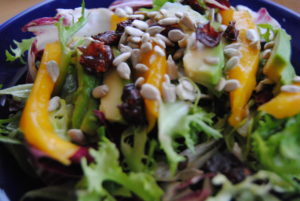 Time to recipize it…
First Summer Salad
1 mango, sliced
1 avocado, sliced
1/4 cup craisins
1/4 cup sunflower seeds
2-3 cups mixed greens
Dressing
2 tbsp extra virgin olive oil
1 tbsp white wine vinegar
Sea salt and cracked pepper to taste
---