This salad is packed with nutrients, minerals, vitamins and fibre…everything that your body is looking for in a meal!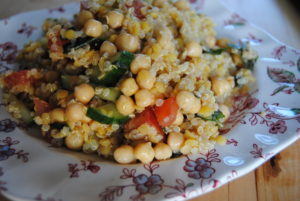 I usually try to make some whole grains ahead of time so that they're prepared and ready to go.  In this case, I had red lentils and quinoa already cooked.  As a reminder, soak them in water for a few hours prior to cooking.  This will help to increase their absorption rates in the body.
I added them to a serving bowl, then mixed in chickpeas, chopped tomatoes and cucumbers.  A few fresh herbs and a nice dressing will help to make a salad extra delicious!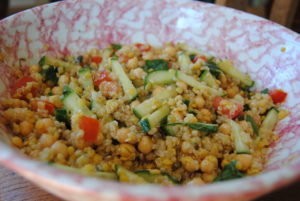 If you want to make a salad similar to this one, here is the way I made it…
Red Lentil Salad
1 cup cooked quinoa
1 cup cooked red lentils
1 can organic chickpeas
2 tomatoes, chopped
1 cucumber, chopped
Handful of fresh herbs (basil, parsley and/or chives)
Dressing
4 tbsp olive oil
2 tbsp fresh basil
1 tbsp fresh lemon juice
1 garlic, minced
1 tsp balsamic vinegar
---