During the summer months, a quinoa salad is a great option to have if you don't feel like hot dishes but still want something with lots of protein.  First, I cut up the veggies…broccoli, cauliflower, spinach and Swiss chard.
Next, I steamed the vegetables for a few minutes.  These vegetables are easier to digest when lightly cooked as it makes them easier to break down.  If you suffer from digestive disorders such as Chron's disease or IBS, it's always better to lightly cook these vegetables.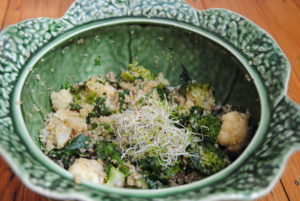 Cook the quinoa at the same time which should take about 15 minutes, then let everything cool down.  In the meantime, make the salad dressing.  Once everything is cooled, toss the dressing with all of the ingredients in a large bowl.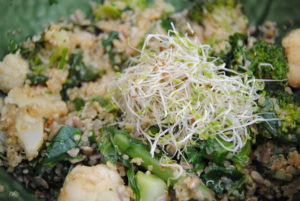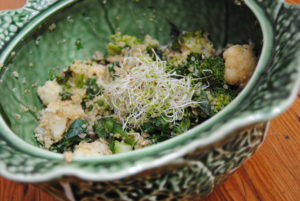 Now it's time to portion out the servings into separate bowls…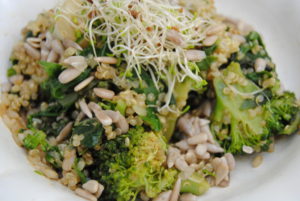 Broccoli Quinoa Salad
2 cups cooked quinoa
1 cup broccoli
1 cup cauliflower
1 cup spinach
1 cup Swiss chard
3 tbsp sunflower seeds
Handful of sprouts
Dressing
4 tbsp balsamic vinegar
Juice of 1 lemon
1 tbsp raw honey
3 tsp tamari (organic soy sauce)
3 tbsp olive oil
2 tbsp flax oil
Lightly steam the vegetables then let them cool.  Mix together with the cooled quinoa then toss with dressing.  Sprinkle with sunflower seeds and sprouts.  Enjoy!
---