Portobello mushrooms are the king of mushrooms. They have a delicious flavour and taste amazing in almost any dish. If you take the time to marinate them a few hours before cooking, the flavour is even better. I usually marinate them in garlic, olive oil, balsamic vinegar, organic soy sauce and garlic. When you cook them, you don't need to add anything else to the pan because the marinade becomes the sauce as well.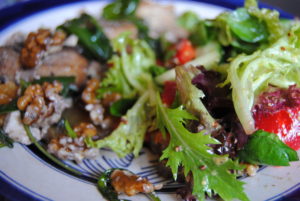 After marinated the mushrooms, I added them to the pan on medium heat for just over 5 minutes.  I added spinach and red peppers then continued to stir for a few more minutes.  Topped it off with walnuts and feta cheese.  Mmmmm!  A salad on the side is always good too…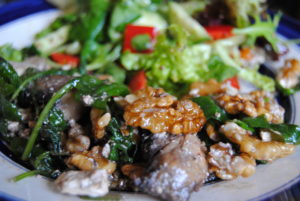 Marinated Portobello Mushrooms
2 large portobello mushrooms, sliced lengthwise
2 garlic cloves, minced
4 tbsp olive oil
2 tbsp balsamic vinegar
2 tbsp organic soy sauce
Fresh herbs if available (basil, oregano or chives)
Pinch of sea salt and cracked pepper
Allow the mushrooms to marinate in the sauce for at least 2 hours.
1 red pepper, chopped
2 cups baby spinach
1/3 cup walnuts
1/4 cup feta cheese
Add the marinated portobello mushrooms to a pan on medium heat.  Cook for about 5 minutes then add the red pepper and spinach.  Cook for a few more minutes then top with walnuts and feta cheese.  Serve with a side salad.  Enjoy!
---