If you read the blog post yesterday, I added a salad dressing recipe with fresh herbs.  There's no use in having a salad dressing if you don't have a nice salad, so I made a big salad for lunch today.  I used millet instead of quinoa which I usually use.  It's also a gluten free grain so it's handy if you're trying to avoid gluten.  As well, it won't cause bloating and indigestion like some grains.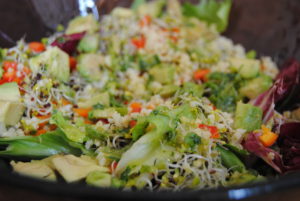 There's lots of fresh vegetables included which provide you with many vitamins and minerals.   I just added whatever I had in my fridge but you can add anything you like to your salads.  Try to get out of your usual salad routines.  It's common to make the same thing over and over but it's great to experiment – you can't really go wrong!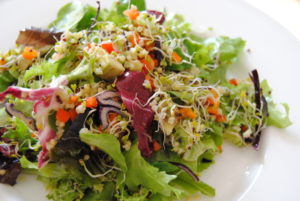 Just remember the importance of colour in your salad.  Try to stay away from commercial salad dressings because they're usually full of stabilizers and artificial ingredients.  Even if you don't want to get your food processor or blender out, just mix some olive oil with your favourite type of vinegar together.  Add a little sea salt, cracked pepper and maybe even some minced garlic.  You'll be set!  Your body won't have to waste energy detoxifying the nasty ingredients in bottled dressings.  Instead, the healthy fats in the oils will support your body's daily requirements.  Healthy fats reduce inflammation in the body and they also maintain healthy skin.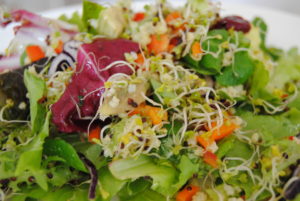 Rainbow Millet Salad
1 cup cooked millet (or quinoa instead)
3 cups mixed greens
1/2 cup red cabbage, chopped
3/4 cup radicchio, chopped
1/2 cup broccoli sprouts (or any other variety)
1 red pepper, chopped
1 orange pepper, chopped
1 avocado, chopped
Mix everything together and dress with Green Power Salad Dressing from yesterday's blog post.
---