In order to incorporate more healthy foods into your life, cook your whole grains and legumes ahead of time.  Legumes include beans, peas (chickpeas as opposed to green beans) and lentils.  It will inspire you to use them rather than let just let them sit in your cupboard.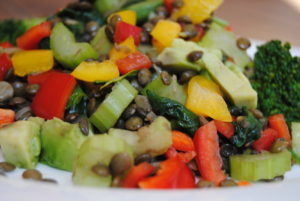 When I make a lentil salad without lettuce, I usually cook about half of the ingredients.  Vegetables like broccoli, cauliflower, kale and onion taste great when they're lightly cooked.  Make sure you don't overcook them or they will start to lose their nutrient level.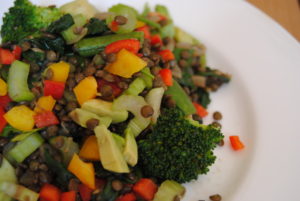 Summer Lentil Salad
1 cup lentils, cooked
1 red pepper, chopped
2 stalks celery, chopped
1 yellow pepper, chopped
1 avocado, chopped
2 cups spinach
1 cup broccoli, chopped
1 onion, chopped
2 tbsp olive oil
1 clove garlic, minced
Basil Oil Dressing
1/4 cup basil
1/4 cup olive oil
2 tsp balsamic vinegar
1 clove garlic
Cook the onion, broccoli and garlic in olive oil for approximately 5 minutes.  Allow to cool and toss with the other vegetables and the cooled lentils.  Mix the dressing as well.  Enjoy!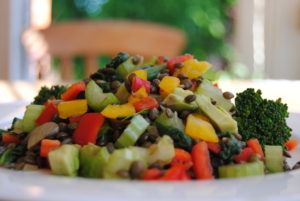 ---