With the pesto recipe that I posted a few days ago, I experimented with a few different pesto uses.  It's great to use as a pasta sauce, as a spread or as a dip.  I also mixed it with rice which is shown in the photos below.
After cooking the brown rice, I stirred in a few spoonfuls of the pesto and mixed everything together.  I made a simple green salad and added it to the other side of the plate.  It makes for a great meal that has lots of nutrients and minerals.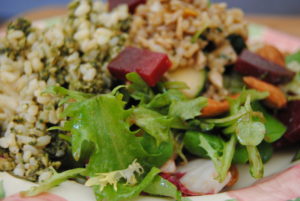 Here is the Mint and Basil Pesto recipe from the previous blog post:
Mint and Basil Pesto
1 cup fresh mint
1 cup fresh basil
1/4 cup sunflower seeds
1/4 cup almonds
1/4 cup olive oil
1 tsp lemon juice
1/4 tsp sea salt
2 cloves garlic
Add 2 tablespoons of the pesto for every 1 cup of brown rice.  Add a green salad to the side.  I added almonds, beets and cauliflower to mixed greens, but add whatever you need to use up in your kitchen.  Most importantly, be creative and enjoy!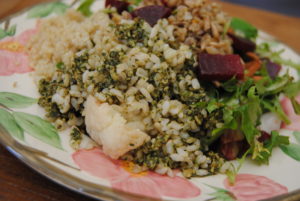 ---