I not only love Mexico but I also love Mexican food.  We often associate Mexican food with lots of cheese, sour cream and ground beef but this is an usually an exported style of Mexican cooking.  Traditional Mexican meals are often made without any of these ingredients.  It's still possible to make a tasty meal without loading it full of dairy and meat. Make sure that you have fresh vegetables and brown rice.  From here, it's easy to cook up a delicious , Mexican-inspired feast!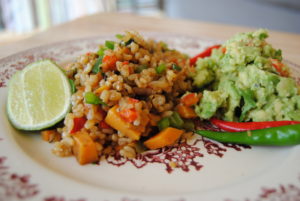 I usually add extra things into my dishes that aren't "traditional" but they still taste great.  In this case, I had a sweet potato that I also added.  It's good to experiment when cooking and just "see what works".  This is often called intuitive cooking and is fun to try.  Just open up your fridge and try to make something with what's in there.  This allows us to be creative and also uses up food items rather than buying new things.
There are many health benefits from the nutrients in this meal.  Guacamole is a great side dish to add to your main meals or enjoy as a snack.  The avocado provides healthy fats that our body needs.  These essential fatty acids cannot be made by the body and must be obtained by the diet.  The brown rice and black beans are full of fibre and protein, and also help to stabilise blood sugar.  The fresh lime and bell peppers contain vitamin C and antioxidants, which support our immune system.  Garlic and onions both inhibit bacterial growth and are used as natural antibiotics.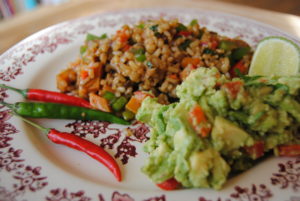 I'll try and recipize it now so that you can try it at home.  Feel free to add or eliminate any ingredients that you may want to…

Tasty Mexican Rice Dish
2 tbsp olive oil
2 garlic cloves, minced
1 red onion, chopped
1 cup mushrooms, chopped
1 red pepper, chopped (green or yellow are okay too)
1 sweet potato, chopped (in small cubes)
1/2 cup black beans, rinsed and drained
1 tomato, chopped
1 hot pepper, minced (optional)
1/2 cup fresh cilantro (coriander)
1 or 2 tsp cumin
1/2 tsp ground coriander
Start by heating the oil in a frying pan.  When hot, add the garlic and onions.  Wait for a few minutes then add the mushrooms.  Once the mushrooms have started to break down, add the peppers, sweet potatoes and tomatoes.  Continue stirring and add the cumin and coriander.  Add in the black beans, hot peppers and fresh cilantro closer to the end.  Reduce to a lower temperature and let the flavours absorb.
Cook the brown rice separately with one part rice to 2 parts water.  Make sure to soak your rice beforehand for at least an hour.  This will increase absorption rates in the body and remove any phytic acid that covers grains.  The phytic acid exists to protect the grains in nature but can be removed by soaking in water prior to cooking (ideally 2 hours minimum).  If not removed, it can inhibit mineral absorption and cause nutrient loss.  Once the rice is cooked, add it to the pan and allow everything to mix together.  Squeeze some fresh lime on top of the dish before eating.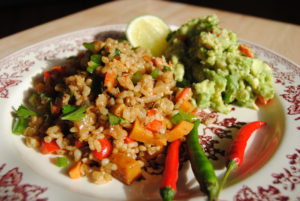 Add some guacamole to the side of your dish – just mix together avocado, chopped tomatoes, sea salt, fresh squeezed lime and chopped cilantro.  Enjoy!