During the summer months, it's nice to enjoy pasta salads for your meals.   Like most meals, there are many different versions of pasta salads.  You can make a heavy meal with lots of mayonnaise and cheese but you can also make a healthy alternative.  Most pasta salads are made with white pasta which has been refined, meaning that the fibre and nutrients have been stripped out.  Try to use brown rice pasta or whole wheat pasta instead.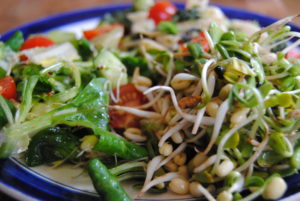 Use whatever vegetables you would like in your pasta salad.  Some can be raw and others can be cooked.  I would suggest to cook the heavier foods like broccoli, cauliflower, zucchini (courgette) and root vegetables such as butternut squash or sweet potato.  Lighter vegetables such as cherry tomatoes, green onions and cucumber can stay raw.  The vegetables will give you your daily dose of antioxidants to keep your immune system healthy.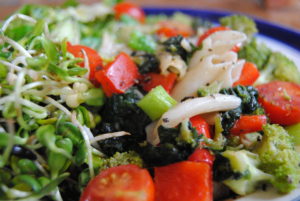 Olive oil based sauces are great for summer because they're light and give the body what it requires for the warm weather.  Summer is a time for detoxing and focusing on cleansing foods.  In the winter, we're provided with root vegetables that usually need to be cooked.  These foods provide us with nourishment and warmth during the cold seasons.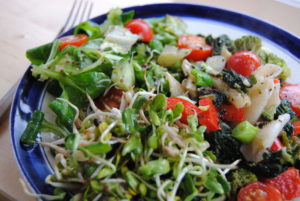 I would suggest experimenting with olive oil based dressings.  Some good ideas are basil, fresh lemon juice, olive oil, garlic, sea salt and cracked pepper.  In addition, you could add balsamic vinegar, organic soy sauce, tahini or oregano.  The oil will provide your body with healthy fats that it needs.  You could also use flaxseed oil, as long as you drizzle it on after.  This is a delicate oil and the fat cells become damaged when cooked.  Allow the pasta to cool and run it under cold water to prevent it from still cooking.  Once the vegetables have cooked, mix everything together and drizzle the sauce on top.  Add in lots of sprouts on top for lots of energy.  They contain raw enzymes and give the body the extra burst it needs.
Healthy Pasta Salad
2 tbsp olive oil
1 shallot, minced
1 garlic clove, minced
1 red onion, chopped
1 cup broccoli, chopped
2 cups baby spinach
1 cup collards, chopped
1 red pepper, chopped
1 cucumber, chopped
1/2 cup cherry tomatoes, chopped
1/2 cup sunflower sprouts
1/2 cup alfalfa sprouts
2 cups brown rice pasta, cooked
Dressing
1/4 cup olive oil
2 cloves garlic, minced
1/2 fresh squeezed lemon
10 basil leaves (approx.)
1/2 tsp balsamic vinegar
Sea salt and cracked pepper to taste
Heat oil in a pan then add the shallot, garlic and onion.  Cook for about 5 minutes then add the broccoli, spinach, collards and red pepper.  Cook for about 5 more minutes.  Mix the warm vegetables and cold vegetables in with the cooked pasta.  Mix in the sauce and top with sprouts.
---