I bought my first batch of cherries for the season which always means that it's officially summer.  Cherries are packed with powerful antioxidants.  They also contain substances which help block enzymes associated with inflammation. They're great to enjoy on their own but try adding them to a summer salad.  It will add sweetness to the meal, especially if you add other ingredients.  I also added yellow bell peppers, shaved coconut and slivered almonds.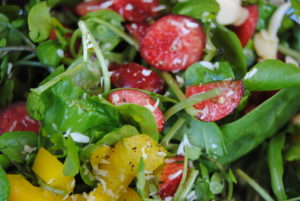 The salad leaves consisted of watercress, rocket (arugula) and spinach.  When you're using sweet toppings, it's nice to balance the flavours with stronger lettuce varieties.  Bell peppers also contain antioxidants which help fight the harmful free radicals in our body.  The almonds provide us with healthy fats and protein that will keep our body energized throughout the day.  Watercress is often considered a superfood because of its high levels of nutrients.  It has a high content of vitamins A, C, B and E.  The liver loves watercress due to its detoxification and cleansing properties.
Get out of your usual salad habits and start adding in different ingredients.  Play around with mixing sweet and pungent flavours to find a good balance.
Cherry Salad
3 cups mixed lettuce (spinach, arugula, watercress)
1 yellow bell pepper
1 cup cherries (pitted and chopped)
1/3 cup shaved coconut
1/3 cup slivered almonds
Dressing
4 tbsp olive oil
1 tbsp raw honey
1 tsp coconut oil
1/2 squeezed lime
5 basil leaves, chopped
Sea salt and cracked pepper to taste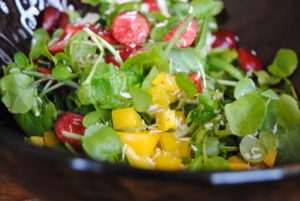 ---